One of the main rules of using a chainsaw – never underestimate the chainsaw. You only have to do an online search for chainsaw injuries to see what can easily go wrong when complacence sets in. Personal Protective Equipment (PPE) is essential for any one using a chainsaw on the ground or on a tree off the ground. No matter the task in hand, safety must always come first.
Below is a list of the Personal Protective Equipment (PPE) items you require to work safely with a chainsaw.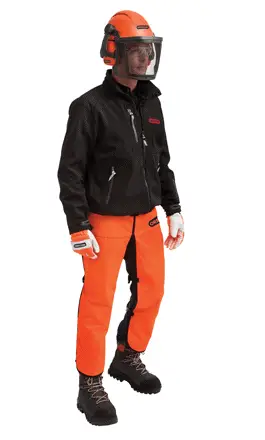 Safety Helmet PPE
If you are working at ground level then only a helmet up to BS EN 397 standard is required. These are made to be strong and secure and stay well balanced on your head while working.
For tasks that involve tree climbing, a mountaineering style helmet it required as long as it complies with BS EN 12492 standards. Helmets made to this standard are also suitable to be used at ground level as well if necessary.


See EN 12492 Safety Helmet




See EN 397 Safety Helmet

Hearing Protection
Plenty of research has shown that constant noise at high volumes from machinery like chainsaws has the potential to damage the auditory system.
The sensible thing to do prior to doing any chainsaw work is to invest in the best quality ear protection you can get.
When deciding on hearing protection, what is important is to provide enough attenuation but not to overprotect the wearer. Therefore, understanding how long you'll be exposed to constant noise while working with a chainsaw is imperative. As such, ear defenders should be chosen based of the noise exposure, and not the highest measured noise level available.


See Chainsaw Ear Protection




See Chainsaw Ear Protection

Eye Mesh Visor PPE
A massive consideration when using a chainsaw is having ample protection for the eye and face from flying debris. This can be from chainsaw use or other flying hazards from tree branches.
A mesh visor will keep your face and eyes protected while working. You should also consider the risk of reduced quality vision when wearing the protection, in choosing the right one for you.
Many of the new mesh visors available today provide both low light reduction and excellent protection from flying chips and splinters.


See McCulloch Mesh Visor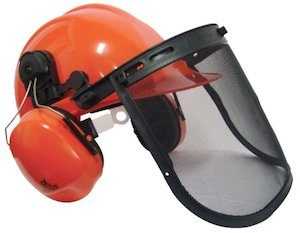 See Chainsaw Mesh Visor

Safety Glasses or Goggles
Safety glasses today offer a choice of eye protection from leading brands with great features including anti-mist or anti-scratch lens. When choosing eye protection from flying debris created by the chainsaw and other risks, it's worth noting that glasses may move when on the head, while goggles will stay in place when working at height.


See Fine Mesh Safety Glasses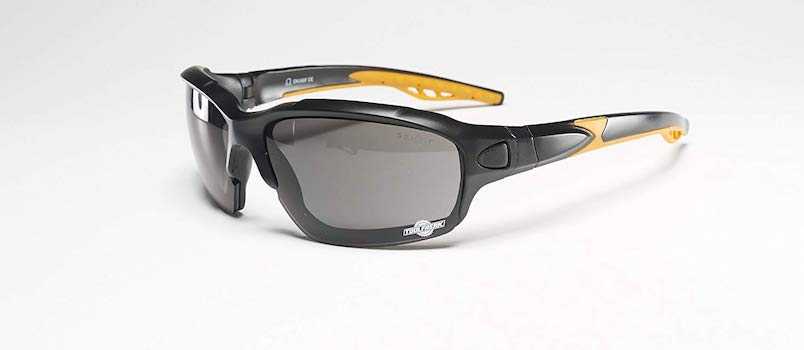 See Safety Glasses & Protective Goggles

Gloves – Chainsaw Glove Classification
The extreme cutting force generated by a chainsaw requires the use of special protection. Suitable gloves for chainsaw tasks are based on suitable risk assessment of the job to hand.
Protection from chainsaw cuts, thorny material and cold/wet conditions should be considered. Most gloves now have interwoven innovative fabrics to prevent cuts and offer resistance against cold and wet conditions.
Where chainsaw protection is required this should be to BS EN 381-7, these usually offer durable palm area coverage and close-fit wrist design, protecting both hands. Some gloves are more ideal for warm weather use. Others have multiple layers of cut-resistant material, while some have reinforced stitching ensuring extra mechanical protection.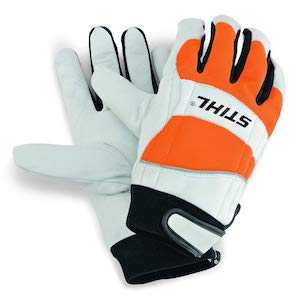 See Chainsaw Protective Gloves




See Chainsaw Protective Gloves

Leg and Groin Protection
There are two types of trousers are available, Type A leg protection, which provides protection to the front of the leg only, and Type C leg protection which provides all round protection to the leg. The key thing is that leg and groin protection should comply with EN381-5
Type C leg protection is recommended to used for aerial work, because of the high all-round chainsaw cut protection. In instances where wearing Type C leg protection is impractical, it may be appropriate to use Type A, where justified by risk assessment.
Type A can be used where you are working alone and at ground level. Where trainees or less experienced operators are working, or when a number of operators are working together, Type C protection should be used.



See Chainsaw Protection Safety Trousers




See Chainsaw Type A Safety Trousers

Chainsaw Boots
Protective boots with protective guarding and good grip are often recommended to chainsaw users. The safety general requirements of Safety Boots are EN344 and EN345 but the more specific requirements for Chainsaw Safety Boots are included in BS EN 381-3 or BS EN ISO 20345:2004.
Chainsaw safety boots should be waterproof and breathable for comfort. Some would also bear a shield depicting a chainsaw to show compliance with EN 381-3.
In recent years using chainsaw boots with Composite Toe Cap protection have become increasingly popular. However when looking to buy chainsaw safety boots, it is better to avoid boots with composite protection as it does not offer the same protection you will get from steel toe boots as shown in the video clip below.
https://www.youtube.com/watch?v=Pequmgt21Lw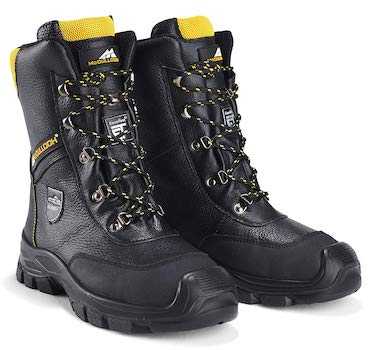 See Chainsaw Protective Safety Boots




See Chainsaw Safety Boots

Outer Clothing (Non Snag Clothing)
What you wear when using a chainsaw is important. Clothing should be non-snag, to avoid the chainsaw catching on clothes the chainsaw user is wearing. In some cases, the use of high-visibility clothing may also be appropriate.
The Chainsaw
Only use a chainsaw if:
the stop switch works and is clearly marked;
the front hand guard/chain brake, chain catcher and anti-vibration mounts are undamaged and functional;
the throttle opens only when the throttle lock is depressed;
it is fitted with a chain type recommended by the manufacturer and is designed to reduce kickback, which is the uncontrolled upward and/or backward motion of the guide bar. It happens when the nose of the guide bar contacts an object such as a log or branch or when the wood pinches the saw chain in the cut;
the exhaust system and silencer are in good order;
there is a mandatory hearing protection symbol on the chainsaw.
Make sure you have the equipment recommended by the manufacturer to carry out sharpening, maintenance and adjustments and a chain cover for transportation.
Check all external nuts, screws and fastenings are secure.
Check the chain tension by pulling the chain fully around the guide bar in the running direction. Wear gloves or use a cloth.
Check periodically throughout the day
It's hard to emphasise how much safety when using a chainsaw is important. Husqvarna do a Basic Protective Kit that comes with a helmet, gloves, face mesh, ear defenders and general PPE kit.
All tools can inflict harm to the human body. Hammers smashed into thumbs can cause bruised knuckles and egos, but a chainsaw multiplies the potential for serious injury. It is literally razor sharp chainsaw teeth moving really quickly, versus the chainsaw operator's nice soft flesh.
Chainsaws churn out wood splinters at high velocity. Branches can spring when cut as they are under tremendous tension and the effect of gravity. A tree cut improperly can flatten a garden shed or even worse flatten you.
Stay safe.